Swiftmode Cleaning Rolls were developed not only for the best cleaning properties but as a product with a very low environmental impact and 100% recyclable from the cartons, cores, PE bag and the fabric itself. Besides they have a incredible vacuum airflow independently tested at 1110 litres per second per sq mtr at 100Pa pressure.
Cores are mostly made of carton. In request PE cores are also available. The fabric of the wipes is made without addition of adhesive binder, the binding is made by thermocompression.
Stencil cleaning efficiency is strongly dependent on the structure of the wipe fabric. Stencil printing quality is affected by poor cleaning and defects appear in assembly. Also a higher efficiency wipe will reduce wipe frequency and average cycle time, thus increases throughput of the stencil printer.
From the below list you can select the machine type and wipe roll size that suits your demand.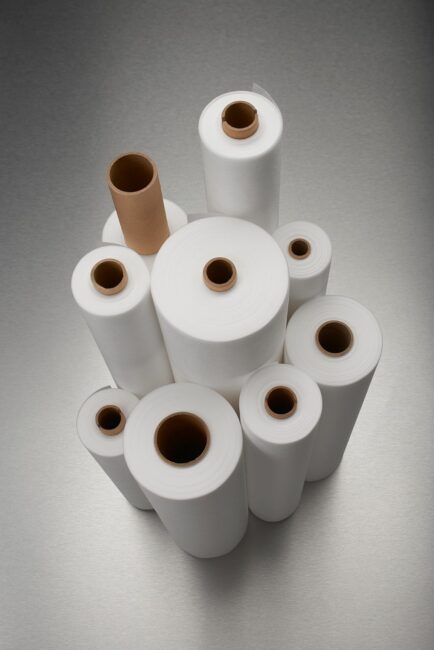 | Manufacturing Part Number | Model / Roll sizes (mm x mm x mtrs ) | Core I.D. | Core Type |
| --- | --- | --- | --- |
| | Panasonic | | |
| P350-350 x 30 | 350 x 350 x 30 | 38mms | CDB |
| P360-360 x 36 | 360 x 360 x 36 | 38mms | CDB |
| P410-410 x 36 | 410 x 410 x 36 | 38mms | CDB |
| P530-530 x 30 | 530 x 530 x 30 | 38mms | CDB |
| | SP18 | | |
| P276-270 x 15 | 276 x 270 x 15 | 20mms | CDBN |
| P376-370 x 15 | 376 x 370 x 15 | 20mms | CDBN |
| P356-350 x 15 | 356 x 350 x 15 | 20mms | CDBN |
| P546-540 x 15 | 546 x 540 x 15 | 20mms | CDBN |
| | DEK | | |
| D530-510 x 9 | 530 x 510 x 9 | 19.5mms | CDBN |
| D530-510 x 11 | 530 x 510 x 11 | 19.5mms | CDBN |
| D530-510 x 12 | 530 x 510 x 12 | 19.5mms | CDBN |
| D530-300 x 11 | 530 x 300 x 11 | 19.5mms | CDBN |
| D530-300 x 12 | 530 x 300 x 12 | 19.5mms | CDBN |
| D530-400 x 11 | 530 x 400 x 11 | 19.5mms | CDBN |
| D530-400 x 12 | 530 x 400 x 12 | 19.5mms | CDBN |
| D620 x 610 x 12 | 620 x 610 x 12 | 19mm | CDB |
| | SJ Innotech | | |
| IN645-623-12 | 645 x 623 x 12 | 20mms | CDBN |
| IN480-440 x 12 | 480 x 440 x 12 | 20mms | CDBN |
| | Speedprint | | |
| SP620-610 x 12 | 620 x 610 x 12 | 19.5mms | CDBN |
| SP450-440-12 | 450 x 440 x 12 | 19.5mms | CDBN |
| | MPM | | |
| M457-440 x 12 | 457 x 440 x 12 | 20mms | CDB |
| M457-440 x 15 | 457 x 440 x 14 | 20mms | CDB |
| M457-440 x 45 | 457 x 440 x 15 | 20mms | CDB |
| M457-440 x 15 | 457 x 440 x 45 | 19mms | CDB |
| | EKRA | | |
| E300-300 x 10 | 300 x 300 x 10 | 13mms | CDB |
| E350-350 x 10 | 350 x 350 x 10 | 13mms | CDB |
| E400-400 x 10 | 400 x 400 x 10 | 13mms | CDB |
| E450-450 x 10 | 450 x 450 x 10 | 13mms | CDB |
| E500-500 x 10 | 500 x 500 x 10 | 13mms | CDB |
| E450-450 x 17 | 450 x 450 x 17 | 13mms | CDB |
| E530-530 x 17 | 530 x 530 x 17 | 13mms | CDB |
| E630-530 x 17 | 630 x 630 x 17 | 13mms | CDB |
| | Yamaha | | |
| Y360-360 x 25 | 360 x 360 x 25 | 25.4mms | CDB |
| Y420-420 x 20 | 420 x 420 x 20 | 25.4mms | CDB |
| Y440-440 x 25 | 440 x 440 x 25 | 25.4mms | CDB |
| Y530-530 x 20 | 530 x 530 x 20 | 25.4mms | CDB |
| Y620-620 x 25 | 620 x 620 x 25 | 25.4mms | CDB |
| | Samsung | | |
| S510-440-10 | 510 x 440 x 10 | 19.5mms | CDB |
| S510-460-10 | 510 x 460 x 10 | 19.5mms | CDB |
| S460-440-10 | 460 x 440 x 10 | 19.5mms | CDB |
| | Fuji | | |
| F370-270-12 | 370 x 270 x 12 | 25.4mms | CDBN |
| F500-500-9 | 500 x 500 x 9 | 25.4mms | CDBN |