| Product | Manufacturer Part Number |
| --- | --- |
| TT Cleaner 5.8 – 100 pre-saturated wipes (stencil cleaning) | A03781 |
| TT Cleaner 5.8 – 500ml spray bottle(stencil cleaning) | A03782 |
| TT Cleaner 5.8-005 – 5 LT(stencil cleaning) | A03783 |
| STR-10 Cleaning Fluid 400ml Brush (manual cleaning) | A03559 |
| STR-10 Cleaning Fluid 600ml Acc-u-Sol (manual cleaning) | A03558 |
| IPA/DI Water –100 wipes/jar pre-saturated wipes ( stencil cleaning ) | A00744 |
TT Cleaner 5.8 – General cleaner for removal of raw solder paste & adhesives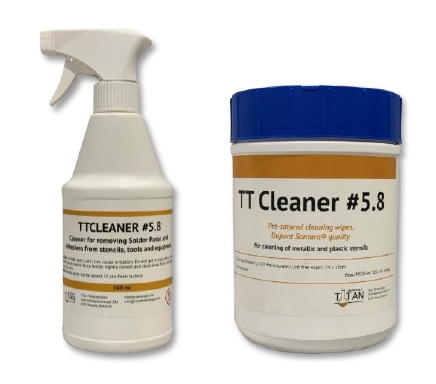 TT Cleaner # 5.8W is a blend of various carefully selected solvents. These solvents have been chosen for their solvency power on various materials such as SnPb and Pb-free solder pastes, SMD adhesives, conductive inks and phase change materials. Due to this mixture of solvents TT Cleaner # 5.8W guarantees effectiveness on a wide range of materials. The cleaner has been specially formulated to be effective on removing of raw solder pastes and adhesives on metallic stencils and other materials on mesh screens and on hybrid substrates.
Applications
▪ Manual cleaning with spray bottle or pre-saturated wipes ▪ Understencil wipe fluid for stencil printers
▪ Spray Under Immersion (SUI), Dip, Ultrasonic (US)
Packaging
1 liter bottle, 5 liter, 20 liter and 200 liter drums. UN approved HDPE. 100 Wipe clean box pre-saturated wipes.
STR-10 Cleaning Fluid – Engineered Cleaning Fluid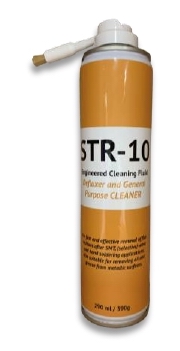 STR-10 Cleaning Fluid has been specially developed to be compatible for usage in single or twin sump vapor phase cleaning equipment and for manual cleaning applications. The fluid shows excellent cleaning and rinsing characteristics on a wide range of flux residues after soldering. STR-10 is capable of removing flux residues from No-clean solder paste, No-clean solder wire and No-clean fluxes. STR-10 is also available in packaging dedicated to manual cleaning of localized flux residues contamination. STR-10 equally cleans metals and some plastics. STR-10 is able to remove a wide scope of light oils, greases, cooling liquids, finger prints and other contaminants effectively with short contact times. STR-10 Cleaning Fluid is intended to be used instead of Ozone Depleting fluids. STR-10 has zero Ozone depleting potential and shows other environmental postive features such as low GWP value. STR-10 is a non-flammable, non- hazardous cleaning fluid for usage in vapor phase cleaning equipment and manual cleaning.
Composition:
STR-10 is composed of equal part of a Hydro Fluor Ether molecule and trans-1,2 Dicholooethylene.
Packaging:
Aerosol: 400 ml and 600 ml volume